What is Cooking Jewish?
Submitted by Judy on Mon, 09/15/2014 - 9:32pm.
Contact Judy at judy@cookingjewish.com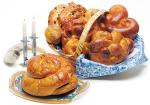 Cooking Jewish is tradition—heirloom recipes passed down through the generations. Cooking Jewish is devising modern spins on old classics. Cooking Jewish is preserving memories as we create new ones. Cooking Jewish is cooking from the heart, a memory in every bite.
And you don't have to be Jewish to cook Jewish!
There are very few dishes that can be exclusively called Jewish. Wherever Jews have wandered, they have incorporated the cuisine of their neighbors into that serendipitous amalgamation we think of as "Jewish food."
We are the ancestors of the coming generations and the keepers of memories for our children. We treasure our heritage as we create new traditions.
Food and family, family and food....I can't think of one without the other. Let's eat together, celebrate together, and enjoy!