Books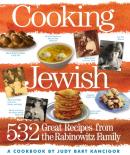 Cooking Jewish: A book by Judy Bart Kancigor. Cooking Jewish: 532 Great Recipes from the Rabinowitz
Family (Workman Publishing)

BUY THE HARDCOVER EDITION
View the Table of Contents (PDF)
Got kugel? Got Kugel with Toffee Walnuts? Now you do. Here's the real homemade Gefilte Fish - and also Salmon en Papillote. Grandma Sera Fritkin's Russian Brisket and Hazelnut-Crusted Rack of Lamb. Aunt Irene's traditional matzoh balls and Judy's contemporary version with shiitake mushrooms. Cooking Jewish gathers recipes from five generations of a food-obsessed family into a celebratory saga of cousins and kasha, Passover feasts - the holiday has its own chapter - and crossover dishes. And for all cooks who love to get together for coffee and a little something, dozens and dozens of desserts: pies, cakes, cookies, bars, and a multitude of cheesecakes; Rugelach and Hamantaschen, Mandelbrot and Sufganyot (Hanukkah jelly doughnuts). Not to mention Tanta Esther Gittel's Husband's Second Wife Lena's Nut Cake.
Blending the recipes with over 160 stories from the Rabinowitz family-by the end of the book you'll have gotten to know the whole wacky clan-and illustrated throughout with more than 500 photographs reaching back to the 19th century, Cooking Jewish invites the reader not just into the kitchen, but into a vibrant world of family and friends. Written and recipe-tested by Judy Bart Kancigor, a food journalist with the Orange County Register, who self-published her first family cookbook as a gift and then went on to sell 11,000 copies, here are 532 recipes from her extended family of outstanding cooks, including the best chicken soup ever - really! - from her mother, Lillian. (Or as the author says, "When you write your cookbook, you can say your mother's is the best.")
Every recipe, a joy in the belly.
REVIEWS
Jewish News of Greater Phoenix
Rochester Democrat and Chronicle
Jewish Journal of Greater Los Angeles
Jewish News Weekly of Northern California
Everythings reference blogspot
gather.com blog

RADIO PODCASTS
Roundtable, Albany (Hanukkah)
Roundtable, Albany (Passover)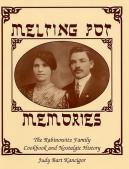 Melting Pot Memories: A book by Judy Bart Kancigor.Melting Pot Memories
(Jan Bart Publications) Sorry, no longer available.
A note from Judy:
In 1996 my favorite aunt was dying, and we were expecting our first grandchild. That's when it hit me - how would the coming generation know about the wonderful recipes and stories of our huge, boisterous family?
I self-published my memoir cookbook, Melting Pot Memories, just for my family. Eight printings and 11,000 copies later, in April 2003, I found myself on a panel at the International Association of Culinary Professionals conference in Montreal on "The Memoir Cookbook" with authors Sharon Boorstin and Ruth Reichl, editor-in-chief of Gourmet magazine. There the book's touching stories and innovative recipes (such as Tanta Esther Gittel's Husband's Second Wife Lena's Nut Cake) caught the eye of Workman Publishing, who offered to publish my second book, Cooking Jewish: 532 Great Recipes from the Rabinowitz Family.
I stopped reprinting Melting Pot Memories to work on Cooking Jewish, a project that took four and a half years. I still get calls requesting copies of Melting Pot Memories - so sorry! I saved four for my grandchildren and have none left, but all I can tell you is, if you liked Melting Pot Memories, you will love Cooking Jewish!
REVIEWS