About Judy
LET ME INTRODUCE MYSELF
I come from a long line of legendary cooks..and eaters! My mother's family (the Rabinowitzes) is huge,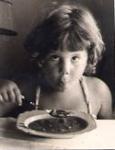 and I grew up in the Brooklyn/Long Island version of the movie Avalon (without the fire, of course). Raised with my cousins as siblings, our parents were inseparable, and our holiday feasts, or even impromptu get-togethers, were hardly what you might call intimate gatherings.
My grandmother, mother, and aunts cooked in huge quantities, and each had her own specialties. Mama Hinda's Challah and Maple Walnut Cake, my mother's Chopped Liver, Chicken Soup, and Meat Tsimmes, Aunt Estelle's Gefilte Fish and Chocolate Chip Cookies, Aunt Sally's Sweet and Sour Meatballs, Apple Strudel, and Red, White and Blue Cake, Aunt Irene's Sweetbreads, Honey Cake, and decorated Butter Bookies, Aunt Hilda's Stuffed Cabbage and Chocolate Chip Mandelbrot.
Until I got married (at the ripe old age of almost 19, I might add) my cooking experience was limited to open-face melted cheese sandwiches with a slice of tomato. But armed with my copy of Better Homes & Gardens Cookbook and my daily calls to my mother-in-law, I soon amassed a new, more exotic repertoire: Stuffed Peppers, Spaghetti and Meat Sauce, Veal Parmigiana, Chicken Tetrazzini, and the specialty of the house for company: Chinese Pepper Steak over Minute Rice.
While my friends were rushing sororities (I think they were called House Plans at Brooklyn College), I was hurrying home to my love nest on Flatbush Avenue where my young husband, Barry (yes, still married after all these years!) awaited dinner.
Through the years I threw myself into my cooking while raising our sons and going through several careers: first teaching high school English, then 24 years as a court reporter, with a two-year stint in between as editor of the Paperweight, a Southern California Weight Watchers newspaper. I love food and entertaining, so cooking was a natural outlet for me, but never in a million years did I imagine it would become my profession!
In 1996, my favorite aunt was dying and my daughter-in-law was expecting our first grandchild. That's when it hit me, that one generation was coming, another was going, and what was going to happen to all those wonderful recipes and fascinating stories that I grew up on?
So I contacted my relatives and proposed a family cookbook: a legacy we could give to our children containing our family history as well as the blintzes and borscht. Three years later I self-published Melting Pot Memories, printing 500 copies - a huge gamble - which somehow were gone in six weeks. When strangers began ordering copies, I suddenly found myself in the book business. Eight printings and 11,000 copies later, I was approached by Workman Publishing, who offered to publish a new Rabinowitz family cookbook, Cooking Jewish, with more recipes, more stories and over 500 family photos!
When Melting Pot Memories led to a new career as a journalist, guest speaker and cooking instructor, I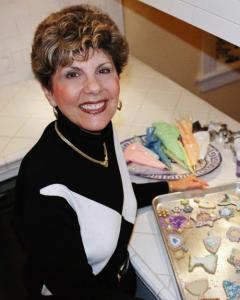 gladly gave up court reporting and began crisscrossing the country, speaking for various organizations, synagogues and churches. I began teaching Jewish cooking classes for Sur La Table (where I freely admit I was not trained at La Varenne), and became a columnist and contributing food writer to The Orange County Register, the Jewish Journal of Greater Los Angeles, the Canadian Jewish News and others.
Now I am a grandmother of four, and I am most gratified that what I set out to do when I sent that first letter to my family, asking for recipes and stories, has been accomplished. Jason, Lauren, Samantha and Blake, as well as my grandparents' other (at last count) 25 great-great-grandchildren - welcome Darren Robbins, Eden Komishock, Wyneth Choset, Lucy Choset, Ilan Epstein, Damien Bart, Jared Bart, Abigal Nathan! - now have a written record of their family history. It is my prayer that they all may delight in the legacy they have been given and continue to pass these traditions down through the generations.
contact Judy: judy@cookingjewish.com