Toffee Walnuts
Submitted by Judy on Thu, 09/13/2007 - 9:57pm.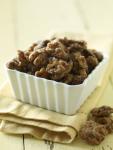 From Cooking Jewish: 532 Great Recipes from the Rabinowitz Family (Workman) by Judy Bart Kancigor
Preorder on amazon

I happened to be testing Rita's Special Kugel the day before my sister-in-law Karina's birthday party. Not realizing the party was catered, I brought it, but no problem – caterer Cathy Giannone of It's a G Thing Caterers generously made room for it on the buffet. While we were eating, my brother, Gary, speared a candied walnut from Cathy's outrageous salad and said, "Can you believe how good these are? You should put them in the kugel!" I said, "Get me the recipe and I will!"
These are the richest, crunchiest caramelized walnuts that ever graced a salad…or a kugel! But there's never enough for either one, because the snackers get to them first. You can try this recipe with pecans or other nuts as well.
To add Toffee Walnuts to your kugel batter, strain them first to release any excess brown sugar.
1/2 cup (packed) dark brown sugar
1 1/2 cups walnut pieces
3 tablespoons butter
Spread 1/4 cup of the brown sugar on a baking pan and set aside.
Heat a large skillet (do not use nonstick) over medium heat. Add the walnuts and toast, stirring with a wooden spoon, until they are fragrant and just beginning to brown, 5 to 6 minutes. Remove the toasted nuts to a clean plate and set aside. Wipe out the pan.
Melt the butter with the remaining 1/4 cup sugar in the same skillet over medium heat, stirring until the sugar dissolves. Add the walnuts and cook, stirring constantly, until the walnuts are golden brown, 2 to 3 minutes. Be careful not to burn them.
Remove the candied walnuts with a slotted spoon and roll them in the brown sugar on the baking sheet, covering them completely on all sides. Allow them to cool. Store them in an airtight container for up to 5 days.
Makes 1 3/4 cups
Note: Rewarm the pan and the caramel will come right off
Photography: Jon Edwards
Food styling: Food Fanatics