Rita's Special Kugel (aka "The King of Kugels")
Submitted by Judy on Sat, 09/22/2007 - 6:40pm.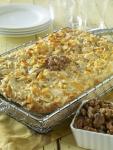 From Cooking Jewish: 532 Great Recipes from the Rabinowitz Family (Workman) by Judy Bart Kancigor
Order on amazon


There's no contest: this is the king of kugels. It is sinfully rich, yet lighter in texture than others we have tried.
Rita Miller was a kosher caterer in New Jersey who created this recipe about 35 years ago, after six months of experimentation, to try to make the best and most unusual dessert kugel possible. Since then it was her carefully guarded secret. The first time she gave out the recipe was to her son, David, and his new bride, my cousin Vicki, so they could make it for their first Yom Kippur breakfast in San Francisco. When I begged her to let me put it in my cookbook, she relented and decided it was time to share it with the world. Please bear in mind, she says, that this recipe was created long before cholesterol became a household watchword!
Slice the wider pear and peach slices in half for a more elegant presentation. And if sliced pears are unavailable, buy pear halves and slice them yourself.
Adding Toffee Walnuts was my brother Gary's idea. Try them with this or any other kugel.
Option: To add Toffee Walnuts to your kugel batter, strain them first to release any excess brown sugar.
Butter or solid vegetable shortening, for greasing the baking pan
Kosher (coarse) salt
12 ounces wide egg noodles
1 dozen large eggs, beaten
3 cups heavy (whipping) cream
1 1/2 tablespoons pure vanilla extract
1/2 cup granulated sugar
1/2 cup (packed) light brown sugar
1 can (29 ounces) sliced pears or halves in heavy syrup, drained and thinly sliced
1 can (29 ounces) sliced peaches in heavy syrup, drained and thinly sliced
2 cans (11 ounces each) mandarin oranges, drained
3/4 cup golden raisins
Preheat the oven to 375°F. Grease a 13 x 9 x 2-inch baking pan (see Note).
Bring a large pot of lightly salted water to a boil. Add the noodles and cook until al dente, 5 to 7 minutes.
Meanwhile, combine the eggs, cream, vanilla, both sugars, and 1 teaspoon salt in a very large bowl. Stir well. Stir in the drained pears, peaches, and mandarin oranges and raisins.
When the noodles are done, drain them well and stir them into the fruit mixture. Transfer it to the prepared baking pan, pushing the solids under the liquids as much as possible, and bake for 1 hour. Cover the kugel with aluminum foil and continue baking until golden and set, about 20 minutes more. (Test by inserting a butter knife in the center. It should come out clean.)
Cut into squares, and serve hot or at room temperature.
Serves about 24
Note: If your baking pan isn't 2 inches deep, place any extra batter in a smaller casserole to be baked separately. Reduce the baking time accordingly.
Photography: Jon Edwards
Food styling: Food Fanatics