New Passover e-book from Cooking Jewish!
Submitted by Judy on Thu, 05/22/2014 - 10:00pm.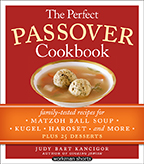 Tradition! Tradition! Got kugel? Got Kugel with farfel? Now you do!
My favorite Passover recipes from Cooking Jewish are now available in a short, handy, digestible e-book: The Perfect Passover Cookbook (Workman Publishing), for your e-reader, available on amazon, barnes and noble or wherever e-books are sold.
These 54 recipes are gathered from five generations of my food-obsessed family into a celebratory saga of Passover feasts.
You'll just go mashuga for:
Shiitake Mushroom Matzoh Balls
Four variations of haroset (including Goat Cheese and Pine Nut Mini Cheesecakes with Cranberry Haroset)
Fabulous mains: Mom's Killer Brisket with Tsimmes, Sephardic Chicken with Olives and Honey, Elaine Asa's Spinach Lasagna
Baked goods, from Passover Fruity Muffins to kugels to Passover bagels
And desserts  -  oh, the desserts! Everyone in your family will want to save room for scrumptious Chocolate Hazelnut Caramel Tart, Lemon Angel Pie, Chocolate Chip Mandelbrot, Spago Pistachio Macaroon Sandwiches, plus tortes, bars, fritters, and much more.
Includes a Passover Checklist, sidebars with cooking and serving tips, and guidelines on Kosher cooking. So stop drooling and get cooking! Chag Sameach!